RECUEIL DE NOUVELLES
Star Wars Tales of light and life - Young Adult High Republic Anthology
Sortie prévue le 5 septembre 2023 aux US
Une nouvelle annonce importante a été faite lors du panel à la New York Comic Con : une anthologie Young Adult sera publiée, qui contiendra neuf histoires courtes de neuf auteurs* différents. Ces histoires couvriront et relieront les trois phases. L'ouvrage devrait être publié en juillet 2023, donc avant la phase 3. Les auteurs suivants sont impliqués et leurs histoires se déroulent à ces dates :
"The Queen's Bloom" de Zoraida Córdova (Phase 2)
"A Closed Fist Has No Claws" de Tessa Gratton (Après la phase 2)
"The Call of Coruscant" de Lydia Kang (Après la phase 2)
"Shield of the Jedi" de George Mann (Après la phase 2)
"Rogue Element" de Alyssa Wong (Phase 1)
"The Lonely Traveler is Home" de Daniel José Older (Milieu à fin de la phase 1)
"After the Fall" de Claudia Gray ( 1 jour après la fin de la phase 1)
"The Force Provides" de Justina Ireland (après la phase 1, mais pas encore en phase 3)
"Light in the Darkness" de Cavan Scott (presque déjà en phase 3)
"All Jedi Walk Their Own Path" de Charles Soule (presque déjà en phase 3)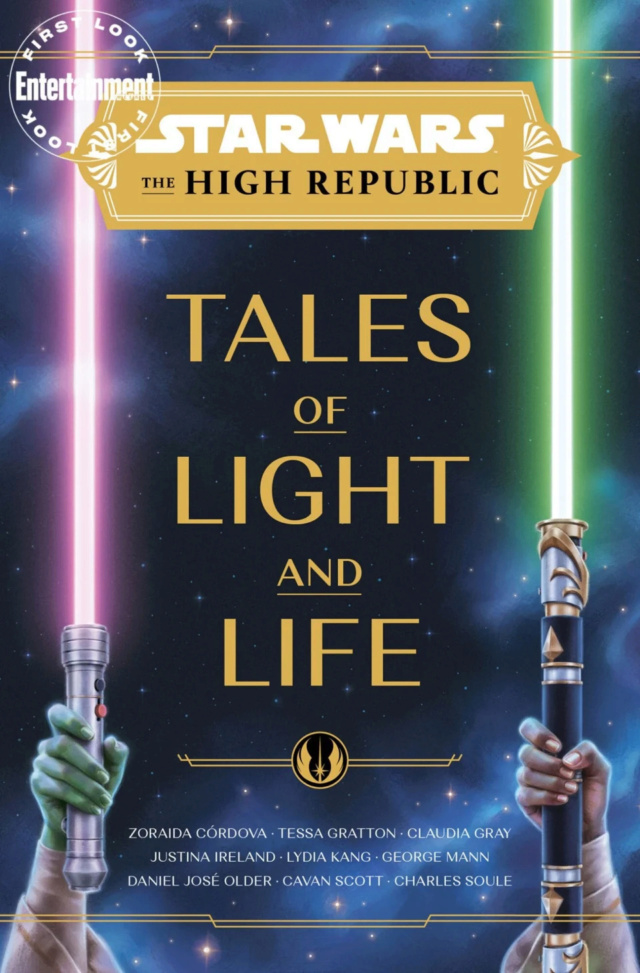 Michael Siglain, directeur créatif de Lucasfilm Publishing, déclare :
« Star Wars : The High Republic : For Light and Life a un peu de tout. Il présente tous nos auteurs de High Republic dans un roman et comprend des histoires de chaque phase. de l'initiative. Nous aurons un aperçu d'histoires à venir, verrons des événements qui se sont produits entre nos romans et nos bandes dessinées, braquerons les projecteurs sur certains personnages et apprendrons même le sort d'autres. Je pense que les fans trouveront cela à la fois excitant et inattendu."
Entertainement Weekly propose également un extrait exclusif de l'histoire de la phase 1 de Claudia Gray, After the Fall , qui se déroule le lendemain de la destruction du Starlight Beacon de la République par le ravageur Nihil dans le roman de Gray, The High Republic: The Fallen Star .
Disponible ici