RECUEIL DE NOUVELLES
Star Wars The Clone Wars: Stories of Light and Dark


Sortie US : 25 août 2020 - DISNEY LUCASFILM PRESS
Recueil de 11 nouvelles, jeunesse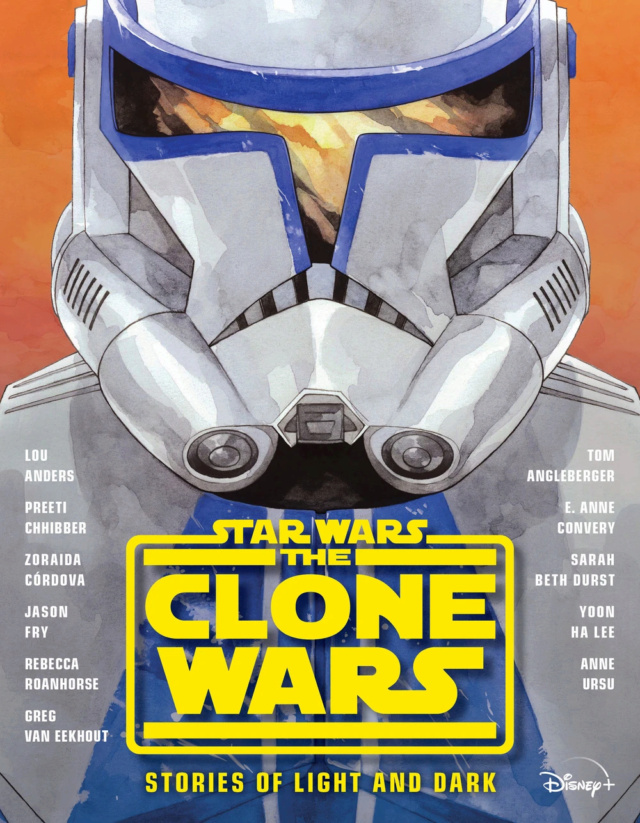 The Clone Wars: Stories of Light and Dark est une anthologie canon basée sur et inspirée de la série télévisée d'animation Star Wars: The Clone Wars . Il présente onze nouvelles de onze auteurs, avec des illustrations intérieures de Ksenia Zelentsova .
"Sharing the Same Face" de Jason Fry
"Dooku Captured" de Lou Anders
"Hostage Crisis" de Preeti Chhibber
"Pursuit of Peace" de Anne Ursu
"The Shadow of Umbara" de Yoon Ha Lee
"Bane's Story" de Tom Angleberger
"The Lost Nightsister" de Zoraida Córdova
"Dark Vengeance" de Rebecca Roanhorse
"Almost a Jedi" de Sarah Beth Durst
"Kenobi's Shadow" de Greg van Eekhout
"Bug" de E. Anne Convery
Un affrontement épique entre les forces de la lumière et des ténèbres, entre la République Galactique et les Séparatistes , entre des héros courageux et des méchants brillants... le destin de la galaxie est en jeu dans la série animée Star Wars : The Clone Wars, lauréate d'un Emmy Award . Dans cette passionnante anthologie, onze auteurs également fans de la série donnent vie aux histoires de leur émission préférée. Revivez des moments mémorables et des aventures époustouflantes, des tentatives d'assassinat aux primes volées , des leçons apprises aux amours perdues. Tous vos personnages préférés de The Clone Wars sont ici : Anakin Skywalker , Yoda , Obi-Wan Kenobi , Ahsoka Tano , le capitaine Rex , Dark Maul , le comte Dooku et bien d'autres !

Découvrez dès à présent un extrait de la nouvelle


Dark Vengeance


The True Story of Darth Maul and His Revenge Against the Jedi Known as Obi-Wan Kenobi
By Rebecca Roanhorse
https://ew.com/books/read-the-exclusive-first-excerpt-of-star-wars-the-clone-wars-stories-of-light-and-dark/