Star Wars Battlefront 2: The Battle on Scarif


La mise à jour sera déployée ce mercredi 29 avril.
Depuis plus de deux ans, EA a déployé 25 mises à jour de contenu gratuites qui ont façonné et développé Star Wars Battlefront II en quelque chose de vraiment spécial pour les fans de Star Wars.
Aujourd'hui, nous vous présentons les détails du contenu intitulé La bataille sur Scarif, où nous retournons au front de la bataille inspiré de Rogue One : A Star Wars Story.
Cet ajout accentue l'incroyable ampleur du jeu, qui, au moment de la sortie de Scarif, comprendra du contenu inspiré de toutes les sorties cinéma Star Wars.
Depuis le lancement, EA a apporté de nouveaux contenus sous la forme de mises à jour gratuites offrant des batailles immersives que vous pouvez jouer en solo, avec des amis, et contre d'autres personnes à travers toute la saga Skywalker.
Cette vision va maintenant se réaliser alors que nous achevons notre retour à l'Age of Rebellion commencé en février.
Au-delà du mois d'avril, nous passons à une phase où les serveurs, les défis en jeu, les événements récurrents tels que Double XP et plus encore, et le support du jeu porteront cette expérience de jeu Star Wars large et riche dans le futur.
Cela signifie que nous nous éloignons des mises à jour régulières de contenu.
Comme le jeu continue de vivre avec les joueurs et notre communauté, nous sommes impatients d'entendre vos histoires pour les années à venir.
Age of Rebellion Supremacy
Comme prévu, cette mise à jour ajoute enfin la partie manquante du mode de jeu "Supremacy", en ajoutant la Supremacy capitale dans l'univers de la trilogie originale.
Battez vous pour la Rébellion ou pour l'Empire Galactique en Supremacy, sur les plages de Scarif, la base Echo de Hoth, les rues de Mos Eisley sur Tatooine, les couloirs de la Death Star II ou dans les temples de Yavin IV.
A noter, que dans ce mode de jeu, il n'y aura pas de phase dans les vaisseaux capitaux mais uniquement du combat au sol comme on vient de l'apprendre via la vidéo de transmission
avec tout de même des combats aériens entre chasseurs Impériaux et vaisseaux rebelles.
Instant Action Mission
Battlefront II n'oublie pas les joueurs solo, en ajoutant le mode de jeu "Instant Action Mission", ou votre objectif sera de défendre ou
capturer des points de commandement contre des joueurs IA dans des scénarios.
Nouveaux Skins
Les skins, sont aussi au rendez-vous, héros comme soldats, avec deux nouveaux skins de Rey avec notamment son sabre jaune du film "Rise Of Skywalker",
un nouveau skin pour l'Empereur Palpatine également du même film, un nouveau skin pour Kylo Ren, un skin de Dark Maul et ses jambes mécaniques de la série Rebels et enfin deux skins soldats,
un skin pour la Rebellion des soldats de Scarif de Rogue One et un skin de ShoreTrooper pour les soldats d'élite impériaux de la planète tropicale.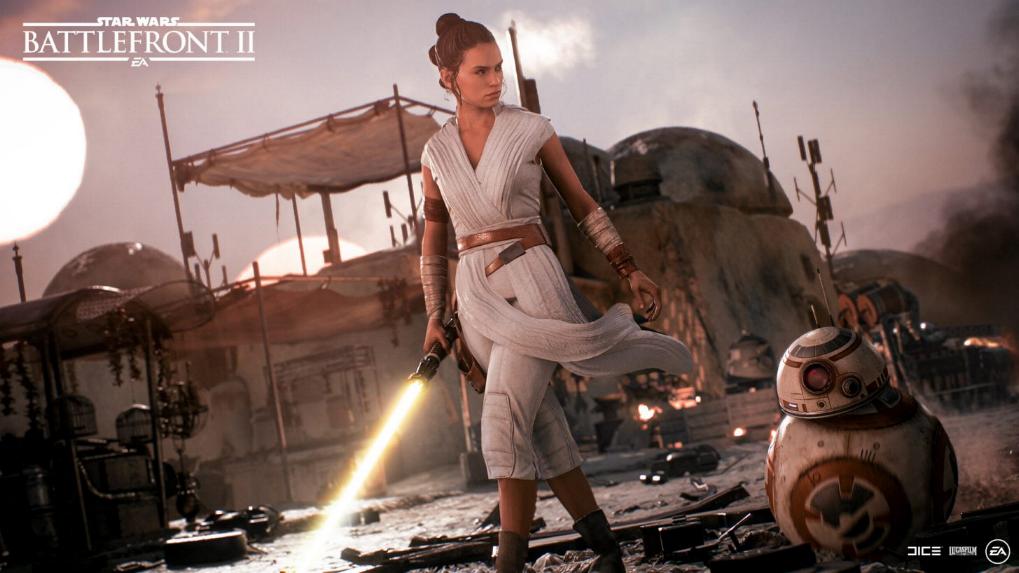 La fin de Battlefront II ?
En effet, ceci était la dernière grosse mise à jour proposée par l'équipe de Battlefront II et son manager Dennis Brännvall qui quitte avec cette mise à jour l'équipe de Battlefront II en tant que manager pour devenir réalisateur chez EA.
Un beau chemin parcouru depuis, comme il le rappelle dans la vidéo communautaire.
La fin de Battlefront II ? Peut être, ou peut-être pas.
Seul l'avenir nous le dira, et la communauté sera là pour jouer et s'amuser sur ce jeu qui nous aura bercé pendant 3 ans.
Toutes les infos officielles :
https://battlefront-forums.ea.com/discussion/158697/community-transmission-the-battle-on-scarif-update
https://www.fpsnews.net/jeux/star-wars-battlefront-ii/star-wars-battlefront-ii-la-derniere-bataille-de-scarif/
https://www.ea.com/en-gb/games/starwars/battlefront/star-wars-battlefront-2/news/letter-to-the-community-original-era-content