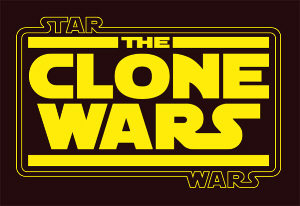 SAISON 5 - (2012–2013)
Episode 1
The Clone Wars : Revival - Retour en Force
Proverbe Jedi:
Strength in character can defeat strength in numbers. - La Force de caractère peut vaincre la force du nombre.
Résumé
:
Alimenté par la vengeance et la rage, les frères Savage Opress et Darth Maul répandent la terreur et la violence à travers la galaxie.
Les frères Sith recrute Ohnaka recrue Hondo et ses pirates afin qu'Obi-Wan Kenobi et Adi Gallia les poursuivent les conduisant ainsi vers une confrontation mortelle.
Episode 2
The Clone Wars : A War on Two Fronts - Une guerre sur deux fronts
Proverbe Jedi:
Fear is a malleable weapon. - La peur est une arme malléable.
Résumé
:
Anakin, Obi-Wan, Ahsoka et Rex se rendent sur Onderon, un monde sous contrôle séparatiste.
Là, ils vont former un groupe de rebelles insurgés - y compris Lux Bonteri - pour aider à reprendre la ville de Iziz aux mains d'un roi fourbe.
Episode 3
The Clone Wars : Front Runners - Les meneurs
Proverbe Jedi:
To seek something is to believe in its possibility. - Pour obtenir quelque chose, il faut croire en ces possibilités.
Résumé
:
Encadrés par Ahsoka, les rebelles de la planéte Onderon infiltrent la capitale et effectuent une série de raids sur des cibles à travers la ville.
Comme le roi Séparatiste est sous une pression croissante de la rébellion, les rebelles choisir un nouveau chef.
Episode 4
The Clone Wars : The Soft Wars - La Reconquête
Proverbe Jedi:
Struggles often begin and end with the truth. - Les luttes souvent commencent et finissent avec la vérité.
Résumé
:
Après une tentative des rebelles pour sauver le vrai roi d'Onderon, Ramsis Dendup, un allié inattendu rejoint la cause rebelle pour stopper l'exécution de Dendup.
Episode 5
The Clone Wars : Tipping Points - Points de rupture  
Proverbe Jedi:
Disobedience is a demand for change. - La désobéissance est un appel au changement.
Résumé
:
La révolte gronde sur Onderon, les rebelles ont porté un coup décisif aux Séparatistes à la solde du roi. Malheureusement pour les rebelles, cette victoire se paie le prix fort.
Episode 6
The Clone Wars : The Gathering - La Collecte
Proverbe Jedi:
He who faces himself, finds himself. - Celui qui se fait face, se trouve.
Résumé
:
Ahsoka escorte un groupe de younglings sur Ilum, où Yoda leur enseignera un rite de passage essentiel: la construction de leurs sabres laser.
Aux prises avec des défis à la fois physiques et intérieurs comme ils font face à la dangereuse tâche qui les attend.
Episode 7
The Clone Wars : A Test of Strength - Le Test de résistance
Proverbe Jedi:
The young are often underestimated. - Les jeunes sont souvent sous-estimé.
Résumé
:
Ahsoka est les younglings sont de retour de Ilum lorsque leur navire est attaqué par le gang de pirates de Hondo.
Les enfants doivent utiliser des pièges ingénieux et improvisés pour contrecarrer les pirates.
Episode 8
The Clone Wars : Bound for Rescue - Sauvetage en cours
Proverbe Jedi:
When we rescue others, we rescue ourselves. - Quand nous sauvons des personnes, nous nous sauvons nous même.
Résumé
:
Avec Ahsoka capturé par des pirates de Hondo, les younglings travaillent ensemble pour infiltrer le repaire des pirates;
Ils utilisent toute leur intelligence et leur courage de tromper Hondo Ohnaka et lancer une audacieuse opération de sauvetage .
Episode 9
The Clone Wars : A Necessary Bond - Une alliance nécessaire
Proverbe Jedi:
Choose your enemies wisely, as they may be your last hope. - Choisissez bien vos ennemis, car ils peuvent devenir votre dernier espoir.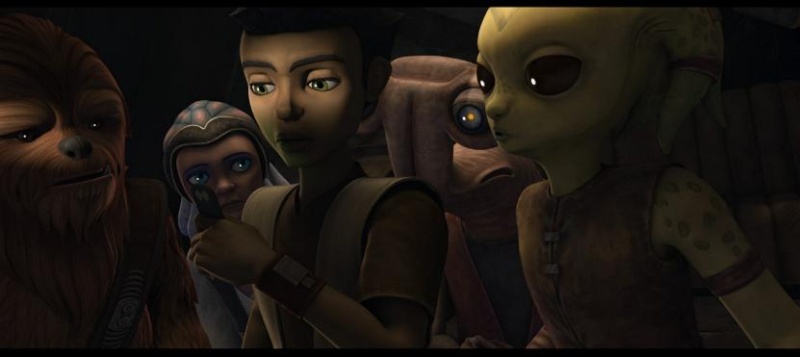 Résumé
:
Lorsque le Général Grievous lance une attaque de grande échelle contre la base pirate de Florrum, Ahsoka, les younglings, Hondo et ses pirates luttent côte-à-côte pour faire reculer les forces Séparatistes.
Episode 10
The Clone Wars : Secret Weapons - Les Armes secrètes
Proverbe Jedi:
Humility is the only defense against humiliation. - L'humilité est la seule défense contre l'humiliation.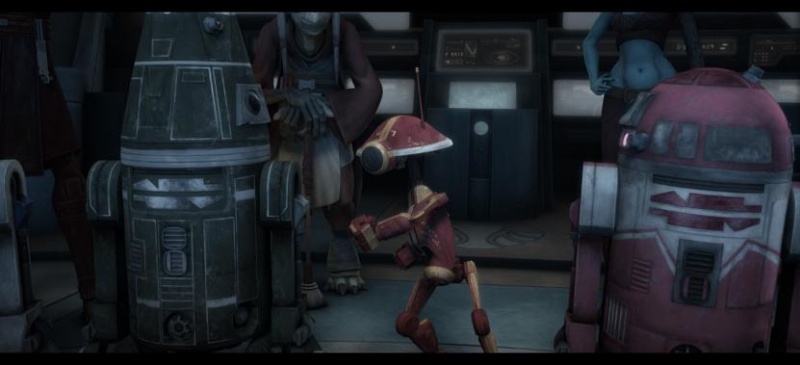 Résumé
:
R2-D2 fait partie de l'équipe de droïdes de la République dirigée par le petit colonel Gasc en mission pour dérober un module de chiffrement à bord d'un cuirassé séparatiste.
Les droïdes devront surmonter de nombreux obstacles pour réussir dans cette importante mission.