TRIALS OF THE JEDI (Phase 3)
Star Wars The High Republic : The Eyes of Darkness
Auteur: George Mann
Sortie US: 14 novembre 2023 - Random House
C'est une période de grands bouleversements
Star Wars The High Republic : The Eyes of Darkness de l'auteur George Mann est le premier livre à paraître dans le cadre de la phase III des livres et bandes dessinées de La Haute République.
Réalisée par Grant Griffin, la couverture montre Marchion Ro, chef des Nihil, régnant d'une main de fer avec le sabre laser de Loden Greatstorm.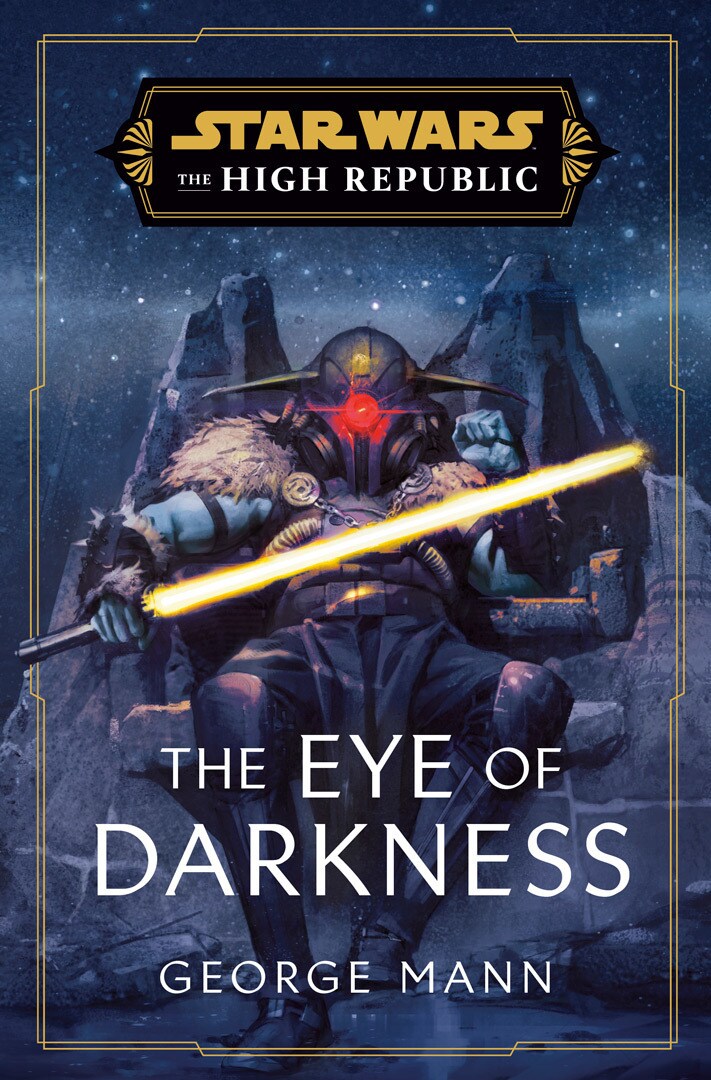 La galaxie est divisée.
Après la destruction du Flambeau Stellaire, les Nihil ont établi une barrière impénétrable appelée Stormwall (Mur des Tempêtes) autour d'une partie de la Bordure Extérieure,
où Marchion Ro règne en maître et où ses partisans sèment le chaos.
Les Jedi piégés derrière les lignes ennemies, comme l'est Avar Kriss, doivent se battre pour aider les mondes asservis par les Nihil.
Mais ils doivent garder une longueur d'avance sur les maraudeurs et leur Nameless terrors (Terreur sans Nom).
À l'extérieur de la zone d'occlusion des Nihil, Elzar Mann, Bell Zettifar et les autres Jedi travaillent aux côtés de la République pour atteindre les mondes qui ont été coupés du reste de la galaxie.
Mais toutes les tentatives pour franchir Stormwall (le Mur des Tempêtes) ont échoué, et même la communication à travers la barrière est impossible.
Pour Elzar comme pour Bell, leurs échecs et leurs pertes leur pèsent tandis qu'ils cherchent désespérément une solution.
Mais même si les forces de la République et des Jedi parviennent à franchir Stormwall (Mur des Tempêtes),
comment les Jedi pourront-ils se défendre contre Nameless terrors (Terreur sans Nom) qui exploitent la connexion des Jedi à la Force ?
Et quelles autres horreurs Marchion Ro nous réserve-t-il ?
Alors que le désespoir des Jedi et de la République s'accroît, tout espoir de réunification de la galaxie risque de s'éteindre....
https://www.starwarsnewsnet.com/2023/07/the-high-republic-the-eye-of-darkness-cover-san-diego-comic-con-plans-burryagas-fate-and-more-revealed.html