Star Wars Shadow Of The Sith
Auteur: Adam Christopher
Sortie Us: 28 juin 2022 - DEL REY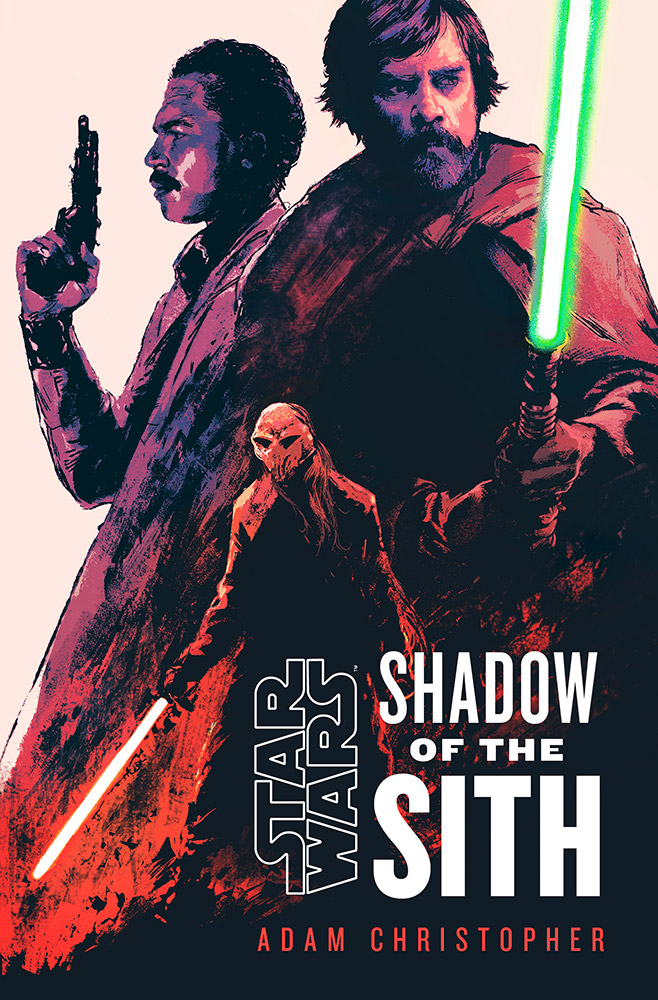 Couverture: Juan Esteban R
L'auteur Adam Christopher était sur le point d'écrire un roman original se déroulant à l'époque de The Mandalorian, mais ce projet a été étonnamment annulé au début de l'année.
Ne vous inquiétez pas, Adam est de retour avec Shadows of the Sith, qui met en scène le maître Jedi Luke Skywalker et le héros de la Rébellion,
Lando Carlrissian, à la recherche d'Exegol et de la fille disparue de Lando.
Synopsis
Luke Skywalker et Lando Calrissian sont de retour dans ce roman incontournable qui se déroule entre Le Retour du Jedi et Le Réveil de la Force.
L'Empire est mort. Près de deux décennies après la bataille d'Endor, les lambeaux des forces de Palpatine ont fui aux confins de la galaxie.
Mais pour les héros de la Nouvelle République, le danger et la mort sont des compagnons omniprésents, même dans cette nouvelle ère de paix.
Le maître Jedi Luke Skywalker est hanté par des visions du côté obscur, annonçant un sinistre danger qui se développe quelque part dans les profondeurs de l'espace, sur un monde mort appelé Exegol.
La perturbation de la Force est indéniable... et les pires craintes de Luke sont confirmées lorsque son vieil ami, Lando Calrissian, vient lui rapporter une nouvelle menace Sith.
Après que sa fille lui ait été arrachée des bras, Lando a cherché dans toute la galaxie la moindre trace de son enfant perdu.
Mais chaque nouvelle rumeur ne mène qu'à des impasses et à des espoirs déçus, jusqu'à ce qu'il croise le chemin d'Ochi de Bestoon, un assassin Sith chargé d'enlever une jeune fille.  
Les véritables motivations d'Ochi restent obscures pour Luke et Lando.
Car sur une lune désaffectée, un mystérieux envoyé de l'Éternel Sith a donné une lame sacrée à l'assassin, lui promettant qu'elle lui donnera des réponses aux questions qui le hantent depuis la chute de l'Empire.
En échange, il doit accomplir une dernière mission : retourner sur Exegol avec la clé de la glorieuse renaissance des Sith - la petite-fille de Dark Sidious lui-même, Rey.
Alors qu'Ochi chasse Rey et ses parents jusqu'aux confins de la galaxie, Luke et Lando se lancent dans une course contre la montre pour percer le mystère de l'ombre persistante des Sith et
aider une jeune famille qui court à sa perte.
Source: Site Officiel