STAR WARS: THE HIGH REPUBLIC: THE MONSTER OF TEMPLE PEAK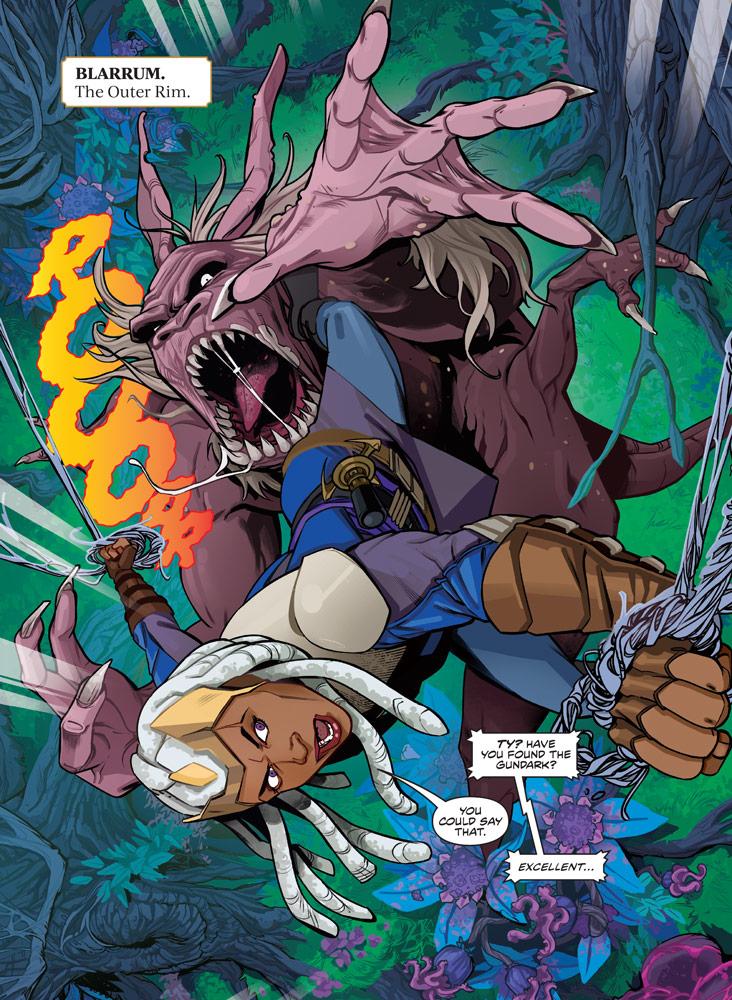 Ty Yorrick a l'air assez forte pour arracher les oreilles d'un gundark.
Dans le premier roman graphique original de l'époque de Star Wars : The High Republic, la chasseuse de monstres sensible à la Force prend la vedette dans Star Wars : The High Republic : The Monster of Temple Peak,
écrit par Cavan Scott et dessiné par Rachael Stott.
The Monster of Temple Peak sortira aux US en quatre épisodes mensuels chez IDW à partir d'août 2021.
"Ty Yorrick est un personnage que je voulais introduire dans Star Wars depuis longtemps", explique Scott à StarWars.com, "et La Haute République m'en a fourni l'occasion parfaite.
Chasseuse de monstres et mercenaire, Ty est un mystère pour tous ceux qui la rencontrent.
Elle s'est forgée une sacrée réputation et n'est connue sur de nombreux mondes que sous le nom de "sabre de location".
"Elle joue un rôle clé dans The Rising Storm et Race to Crashpoint Tower, puis nous braquons les projecteurs sur elle - et son passé - dans The Monster of Temple Peak ", ajoute Mike Siglain,
directeur créatif de Lucasfilm Publishing.
"Elle est en train de devenir rapidement l'un de mes nouveaux personnages préférés, et pas seulement parce qu'elle est une chasseuse de monstres, bien que cela aide certainement."
Dans le passé, Yorrick était autrefois une Padawan sur le chemin pour devenir un Jedi, dit Scott, ce qui explique où elle a obtenu sa célèbre arme.
"Elle l'a construite il y a longtemps, à l'époque où elle s'entraînait dans l'Ordre Jedi", explique-t-il.
Reste à savoir si elle faisait partie des Lost Twenty (Vingt Perdus) - ces rares maîtres Jedi qui ont choisi de s'en aller - ou non.
Cependant, Scott suggère qu'il existe un lien entre sa nouvelle œuvre et son drame original centré sur le comte Dooku.
"Dans The Monster of Temple Peak, nous découvrirons ce qui s'est passé pour la mettre sur une voie très différente de celle à laquelle elle s'attendait
et comment
une crise passée est liée à des événements évoqués dans mon original audio Dooku : Jedi Lost", dit Scott.
https://www.starwars.com/news/first-look-inside-star-wars-the-high-republic-the-monster-of-temple-peak