RECUEIL DE NOUVELLES
"40 stories celebrating 40 years of Star wars - From a certain point of view"
43 Auteures célèbrent les 40 ans de Star Wars A new Hope
Sorti le 3 octobre 2017 aux US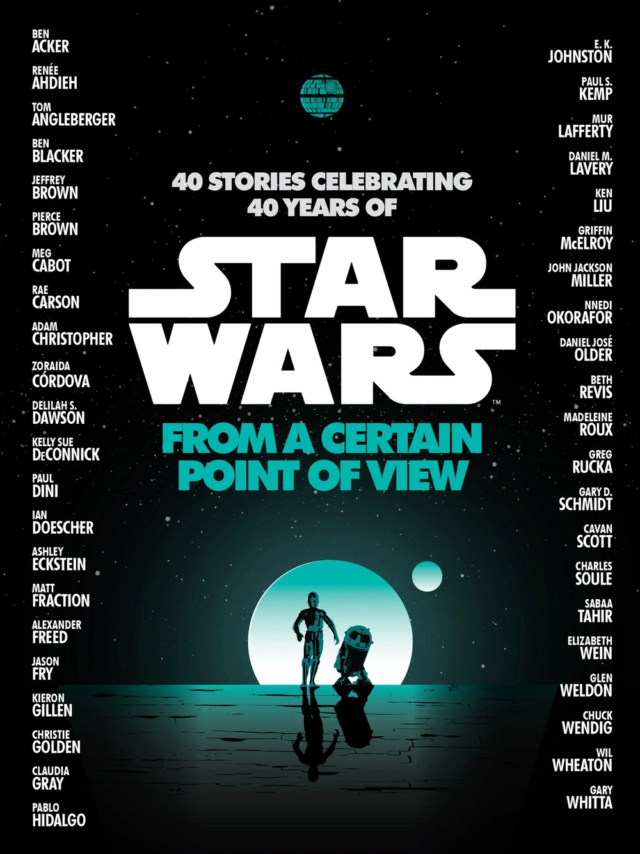 Sur la base des caractères d'arrière-plan vus à l'épisode IV (et plus souvent que jamais, jamais entendu), ce tome «met en lumière les inconnus, les héros et les méchants».
En l'honneur du quarantième anniversaire de Star Wars : Un nouvel espoir , cette collection présente des histoires de Star Wars par des auteurs à succès, des artistes avant-gardistes et des voix précieuses de l'histoire littéraire de Star Wars. Plus de quarante auteurs ont prêté leur vision unique à quarante "scènes", chacune racontant un moment différent du film original de Star Wars, mais avec une touche : chaque scène est racontée du point de vue d'un personnage d'arrière-plan. Qu'il s'agisse des de X-wing pilotes qui ont aidé Luke à détruire l' étoile de la mort ou des stormtroopers qui n'ont jamais pu trouver les droïdes qu'ils cherchaient, Star Wars : From a Certain Point of View place le film classique dans une toute nouvelle perspective et célèbre l'influence et l'héritage du phénomène culturel sans précédent, Star Wars.
Liste des nouvelles et de leurs auteurs
"Raymus" de Gary Whitta
"The Bucket" de Christie Golden
"The Sith of Datawork" de Ken Liu
"Stories in the Sand" de Griffin McElroy
"Reirin" de Sabaa Tahir
"The Red One" de Rae Carson
"Rites" de John Jackson Miller
"Master and Apprentice" de Claudia Gray
"Beru Whitesun Lars" de Meg Cabot
"The Luckless Rodian" de Renée Ahdieh
"Not for Nothing" de Mur Lafferty
"We Don't Serve Their Kind Here" de Chuck Wendig
"The Kloo Horn Cantina Caper" de Kelly Sue DeConnick and Matt Fraction
"Added Muscle" de Paul Dini
"You Owe Me a Ride" de Zoraida Córdova
"The Secrets of Long Snoot" de Delilah S. Dawson
"Born in the Storm" de Daniel José Older
"Laina" de Wil Wheaton
"Fully Operational" de Beth Revis
"An Incident Report" de Daniel M. Lavery
"Change of Heart" de Elizabeth Wein
"Eclipse" de Madeleine Roux
"Verge of Greatness" de Pablo Hidalgo
"Far Too Remote" de Jeffrey Brown
"The Trigger" de Kieron Gillen
"Of MSE-6 and Men" de Glen Weldon
"Bump" de Ben Acker and Ben Blacker
"End of Watch" de Adam Christopher
"The Baptist" de Nnedi Okorafor
"Time of Death" de Cavan Scott
"There is Another" de Gary D. Schmidt
"Palpatine" de Ian Doescher
"Sparks" de Paul S. Kemp
"Duty Roster" de Jason Fry
"Desert Son" de Pierce Brown
"Grounded" de Greg Rucka
"Contingency Plan" de Alexander Freed
"The Angle" de Charles Soule
"By Whatever Sun" de E. K. Johnston and Ashley Eckstein
"Whills" de Tom Angleberger
Espérons voir cet ouvrage par chez nous