STAR WARS: AGE OF REBELLION – PRINCESS LEIA #1


AVRIL 2019
GREG PAK (W) • CHRIS SPROUSE (A) • Cover by TERRY & RACHEL DODSON
Puzzle Piece Variant Cover by MIKE MCKONE
Connecting Promo Variant Cover by GIUSEPPE CAMUNCOLI & ELIA BONETTI
CONCEPT DESIGN VARIANT COVER ALSO AVAILABLE
Movie Variant Cover Also Available  
PRINCESSE CHASSEUSE DE PRIMES !
Avec HAN SOLO congelé dans de la carbonite dans le palais de JABBA LA HUTTE, la princesse LEIA se prépare à un sauvetage audacieux en prenant l'identité du chasseur de prime BOUSHH.
Mais pour réussir, elle devra faire ses preuves dans sa nouvelle identité auprès de l'impitoyable chasseur de primes BOSSK !
Avec sa vie et tous ses fondements en jeu, jusqu'où Leia ira-t-elle pour sauver une canaille ?
Avec CHEWBACCA et LANDO, qui ont certainement un mauvais pressentiment à ce sujet !
32 PAGES
ONE-SHOT
$3.99
STAR WARS: AGE OF REBELLION – GRAND MOFF TARKIN #1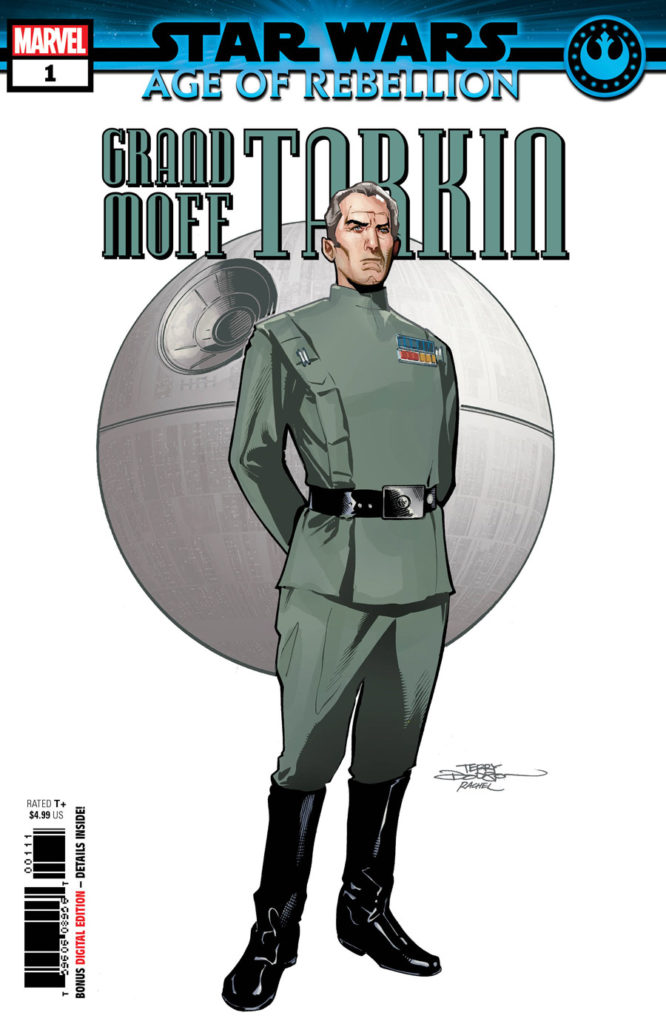 GREG PAK (W) • MARC LAMING (A) • Cover by TERRY & RACHEL DODSON
Puzzle Piece Variant Cover by MIKE MCKONE
CONCEPT DESIGN VARIANT COVER ALSO AVAILABLE
Movie Variant Cover Also Available
IL EST L'ÂME DE L'ÉTOILE DE LA MORT !
L'EMPIRE a construit l'arme la plus mortelle que la galaxie ait jamais vue.
Mais même l'officier impérial le plus impitoyable pourrait hésiter à libérer le pouvoir de la DEATH STAR en tuant des millions de personnes en un instant.
Découvrez l'histoire secrète de GRAND MOFF TARKIN, les horreurs qui ont aiguisé sa détermination et les mesures terrifiantes qu'il prend pour que l'Etoile de la mort soit à la hauteur de son terrible nom !
32 PAGES
ONE-SHOT
$3.99
STAR WARS: AGE OF REBELLION SPECIAL #1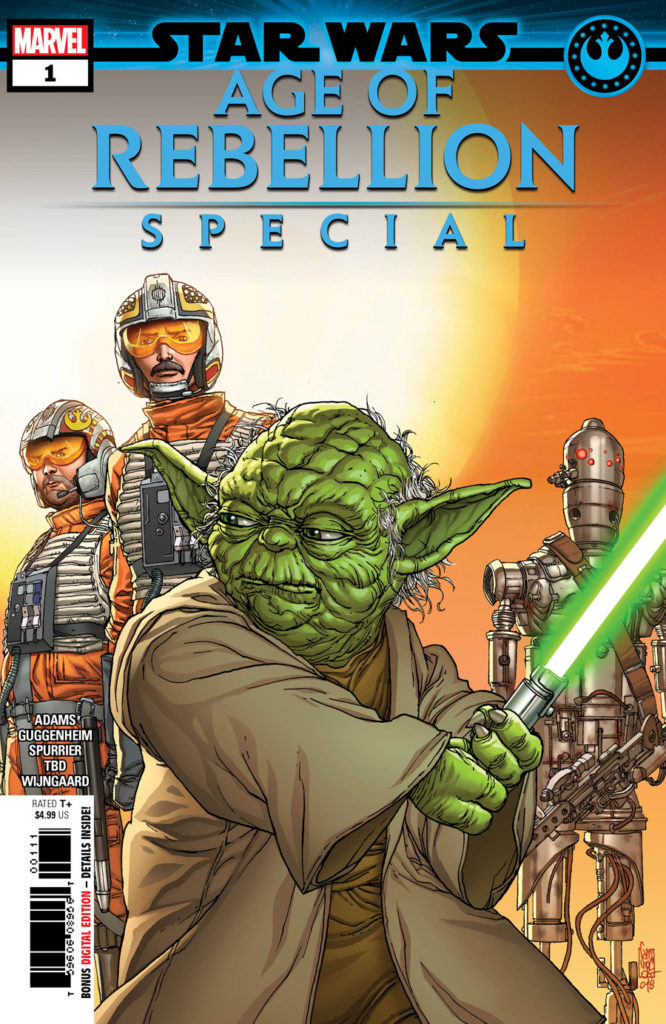 MARC GUGGENHEIM, JON ADAMS AND SI SPURRIER (W)
JON ADAMS, CASPAR WIJNGAARD & ANDREA BROCCARDO (A)
COVER BY GIUSEPPE CAMUNCOLI & GURU-eFX
Variant Cover by MARCO CHECCHETTO
GREATEST MOMENTS VARIANT COVER BY JEN BARTEL
Puzzle Piece Variant Cover by MIKE MCKONE
ONE-SHOT SPÉCIAL METTANT EN VEDETTE VOS PERSONNAGES PRÉFÉRÉS (ET INATTENDUS) DE LA TRILOGIE ORIGINALE DE STAR WARS !
- Pousse-toi, Boba Fett.
Le chasseur de primes le plus dangereux de la galaxie n'est pas celui que vous croyez.
Le froid et calculateur droïde assassin IG-88 a une réputation mortelle.
Les criminels recherchés devraient trembler de peur parce que IG-88 ne recule devant rien pour accomplir sa mission.
Mais d'où vient-il ? Que veut il ?
La perfection pourrait être un bon point de départ.
SI SPURRIER (DOCTOR APHRA) et CASPAR WIJNGAARD (DOCTOR APHRA ANNUEL) donnent vie au terrifiant droïde !
- La destruction de l'Ordre, la mort de ses amis, l'exil - peu importe ce qu'il a enduré, YODA sera toujours un Jedi.
Même en se cachant sur la planète isolée de Dagobah, loin de la puissance de l'Empire, le travail des Jedi n'est jamais terminé.
Marc Guggenheim (X-MEN GOLD) et ANDREA BROCCARDO (STAR WARS) rendront visite au sage et vieux maître !
L'Alliance rebelle, qui lutte pour la liberté, a plus que sa part de héros - comme les pilotes as BIGGS DARKLIGHTER et JEK PORKINS.
Mais ils luttent depuis longtemps contre l'Empire et parfois, même les nobles guerriers comme Biggs et Porkins ont besoin d'un peu de repos et de détente.
Y a-t-il un endroit vraiment libre des souffrances du conflit galactique ?
L'écrivain et illustrateur JON ADAMS (le New Yorker, LOVE ROMANCES) a la réponse !
32 PAGES
ONE-SHOT
$4.99
MAI 2019
HAN SOLO #1
BOBA FETT #1
LANDO CALRISSIAN #1
JABBA THE HUTT #1
JUIN 2019
LUKE SKYWALKER #1
DARTH VADER #1