Jaquettes et contenus des éditions US de de Solo A Star Wars Story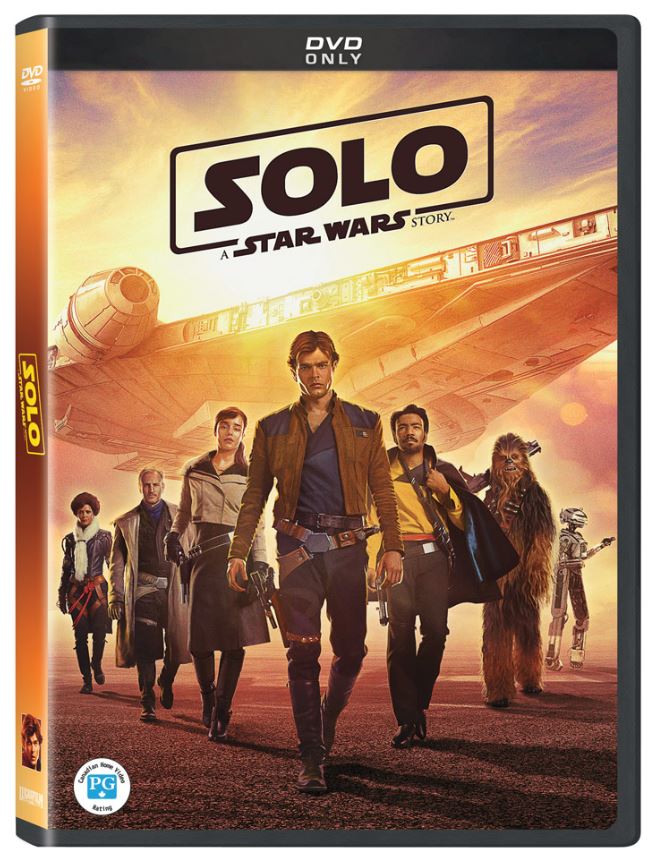 Liste de sbonus
Solo : The Director & Cast Roundtable - Asseyez-vous avec le réalisateur Ron Howard et les stars pour une discussion intime et divertissante sur la réalisation du film.
Team Chewie - Voyez ce qu'il faut pour donner vie à votre Wookiee préféré dans un regard dans les coulisses.
Kasdan sur Kasdan - Lawrence Kasdan, scénariste iconique de Star Wars et son fils Jonathan partagent ce que c'était d'écrire le scénario du film ensemble.
Remaking the Millennium Falcon - La transformation du vaisseau le plus célèbre de la galaxie, de l'orgueil et de la fierté impeccable de Lando au cargo de Han avec des "modifications spéciales".
S'évader de Corellia - Prenez le volant pour la réalisation de cette course-poursuite à haut taux d'octane dans les rues de Corellia.
Le Train de Heist - Explorez les défis et les sensations fortes de la création de cette séquence pleine d'action, y compris son emplacement éloigné et ses effets spectaculaires.
Devenir un droïde : L3-37 - Rencontrez le nouveau droïde et l'actrice talentueuse qui l'aide à prendre vie.
Canailles, droïdes, créatures et cartes : Bienvenue à Fort Ypso - Faites une visite approfondie du bar où les étrangers se mélangent et les joueurs risquent tout dans le légendaire jeu de cartes Sabaac.
Dans le Maelstrom : Le Kessel Run - Rejoignez Han et Chewie aux commandes du Faucon du millénaire pour voir comment ce moment légendaire de l'histoire de Star Wars se déroule.
Le Faucon du Millénaire : De la page au parc - Dans un bonus exclusif disponible sous forme de code numérique avec la version Target,
vous pouvez avoir un aperçu de l'histoire du vaisseau le plus célèbre de la galaxie, de son origine et de son développement, et comment il se traduira dans l'une des expansions les plus attendues de l'histoire de Disneyland.
Et les scènes supprimées :
La tanière de Proxima
Poursuite à pied Corellian
Han Solo : Cadet impérial
La bataille de Mimban : Étendu
Han contre Chewie : Étendu
Bataille de boules de neige !
Voici Dryden : Étendu
Coaxium Double-Cross
Pour la France, je vous rappelle que la sortie est prévue le 30 28 Septembre 2018
Source site officiel