STAR WARS GALAXY OF ADVENTURES
Star Wars Galaxy Of Adventures débutera sur le nouveau site web "STAR WARS KIDS" et sur YOUTUBE
L'aventure vous attend dans Star Wars Galaxy of Adventures, une nouvelle série de courts métrages d'animation qui présentera les thèmes classiques,
les moments clés et les personnages iconiques de la saga Star Wars aux plus jeunes fans de Star Wars.
Les six premiers courts métrages, qui seront diffusés sur le tout nouveau site StarWarsKids.com et sur la chaîne Star Wars Kids YouTube le 30 novembre, combinent dialogues,
musique et effets sonores originaux avec de nouvelles animations audacieuses et des ajouts amusants et éducatifs conçus pour aider les anciens fans,
parents et autres mentors à guider les enfants pour explorer la galaxie très lointaine.
D'autres courts métrages mettant en vedette les personnages préférés des fans feront leur apparition en décembre, et des sorties régulières suivront en 2019.
"Avec Galaxy of Adventures, nous voulions créer quelque chose qui permette aux parents d'aider leurs enfants à faire leurs premiers pas dans un monde beaucoup plus vaste,
qu'ils soient prêts à montrer les films à leurs enfants ou à trouver de nouvelles façons d'explorer l'univers Star Wars", explique James Waugh, vice-président de Lucasfilm.
Ces aventures animées et dynamiques ne sont qu'une partie d'un plan en plusieurs volets sous la bannière Star Wars Galaxy of Adventures,
et le début d'une célébration d'un an de Star Wars, qui culminera avec le dernier chapitre de la saga Skywalker - Star Wars : Episode IX - au cinéma en décembre 2019.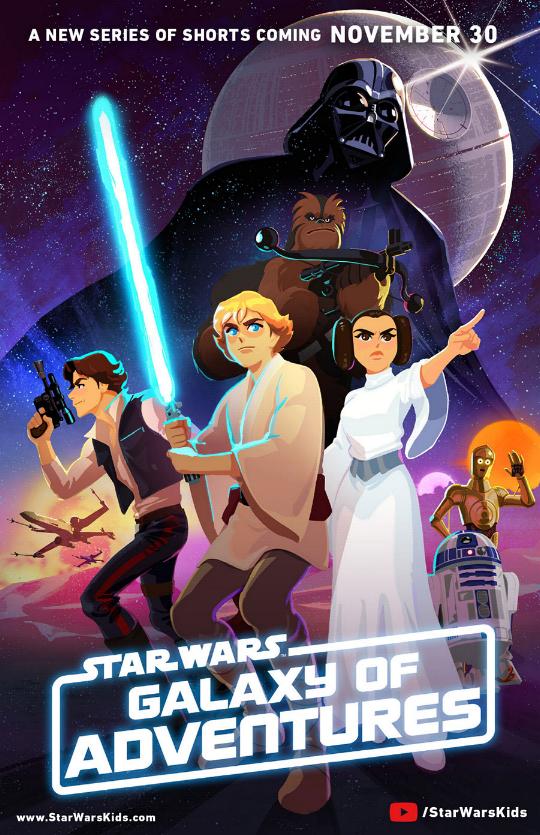 https://www.starwars.com/news/star-wars-galaxy-of-adventures